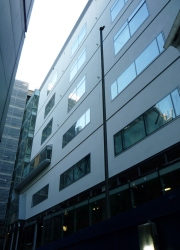 System & Bespoke Façade Design
As façade consultants Rapide Technical Services can provide a whole wall solution to the building envelope whether system or bespoke led design is required. RTS Design have a comprehensive knowledge and experience of all leading Curtain Walling, Glazing and Cladding solutions. Our service includes expert input to the project team from architectural concept through manufacturing and procurement to completed installation.
Some clients require only our experience to extend their in house drawing expertise and or capacity, a role in which we will provide you with tailored packages to suit. In line with our own expertise Rapide Technical Services employ specialist structural engineers whom we have worked with for many years for specialist input where required.
Outside direct involvement of the design, we also offer project management, Q. A. services associated with vetting and checking of design works and installation services.