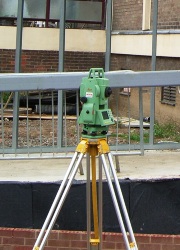 Precision Surveys
Accurate Setting Out, Control, Line and Level Surveying is crucial to the success of high tolerance façade development and provides essential data for analysis of envelope sizing, component sizing, bracketry and sub frame design.
From the outset of the company, RTS Design have carried out such specialized surveying as a stand alone service or a part of our tailored packages.
In many instances we are called upon to provide these services to ensure that other design teams can complete their works with confidence. Our broader experience ensures that the results and any subsequent analysis is presented clearly and specifically to match the façade system and / or designer's requirements.
On numerous occasions, we have been employed as a third party to resolve and coordinate setting out disputes or in an expert witness capacity.